Today dress codes seem to be a popular topic, frequently showing up on Twitter or Facebook as someone ranting. Although dress codes help schools control students and help set the bar between whats appropriate and what is not. How much is too much? School have been known to make rules such as no spaghetti straps and shorts longer than your finger tips. But most rules are set for girls, and not every girl has the same body. Has a shoulder ever been distracting to you? Probably not, most dress codes are absolutely ridiculous and can make girls feel less of an equal than boys. In this
Buzzfeed
story a women tried eight different high schools dress codes for a week, and found it terrifyingly hard. She states how much stress she was put through just trying to pick out and outfit for the day, and how stressful it must be for the girls to go through the entire day worried about being dress coded.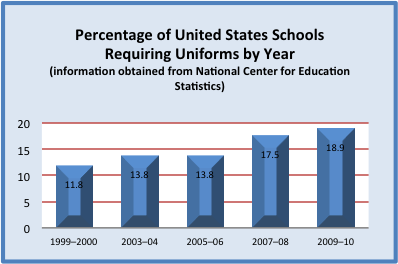 Should school uniforms be used more frequently in public schools? Because of many dress codes and stress given to students about what is appropriate and what is not should school uniforms be the ultimate answer? These uniforms could fix many distractions and issues throughout the school. Such as less distraction when it comes time for academic work or minimize bullying due to someones outfit of choice, says
Frontier Academy
. Although uniforms may seem plain and boring they could prevent various issues that happen throughout the school day.
As times change and outfit choice changes, more school have turned to uniforms or tighter dress code policies. Uniforms and tighter dress codes have proven to bring down violence and aggression through the school. How would BHS benefit from a tighter dress code? What would the positives and negatives be if BHS got uniforms?